NRG Player music player
Music Player – Play Music in Different Formats
If you are a music buff and love listening to music in multiple different formats then this music player can be of great use to you. NRG Player Music Player is a cool app which lets you play music in different formats stored on your phone's internal memory or SD card. It can enable you to listen to those tracks which you weren't able to play with the default player of your device. Since it has its own audio engine capable of playing lossless formats like FLAC, APE, and ALAC, the sound quality you get is truly awesome. In addition to the powerful music playing features, this app is highly customizable too. You can change its appearance just the way you want.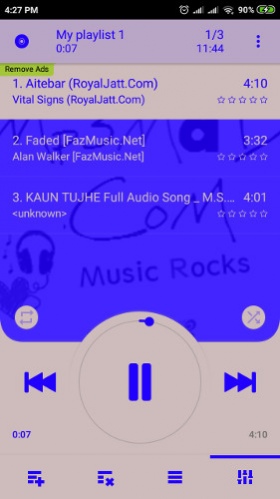 NRG Player Music Player is blessed with an intuitive user interface. Anyone can easily interact with its interface and make use of its different functions. Moreover, the elegant design and layout add to the charm of this app. Because it is customizable too, you can personalize it as per your preferences. You can go to the Settings menu and change the color and background of the interface with consummate ease. Aside from the aesthetics of the app, one of its great features is the circular rewind button. This makes navigation of long tracks a simple exercise for you. The app provides you with total control over the rewind speed too. This means that you can set the rewind speed from the controls menu in the Settings section.
This music player can play songs in over 20 different music formats. So, you would be able to play songs and audio clips in any format no matter how rare they are. NRG Player doesn't just let you play the music you have on your phone. It allows you to enjoy it too. Thanks to the 10-band equalizer that is fitted into this player, you can make changes to the sound quality whenever you want. This can enhance your listening experience manifolds and you would enjoy the tracks much more than you normally would. If you aren't familiar with equalizer and how it works, the app provides presets that can help you out. You can even choose to disable the equalizer option if you don't want to use it.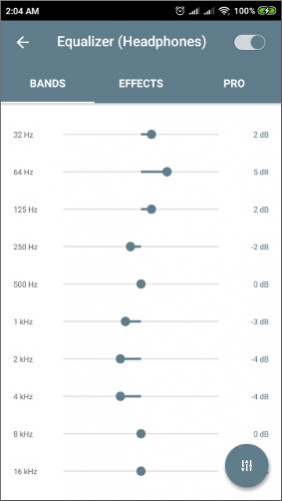 NRG Player Music Player also offers various sound effects to you too. These sound effects can help you get the best out of your headphones. It also has a sleep timer feature which automatically shuts down the app at a set time. This timer can help you ensure that the music player will close if you end up sleeping while the app is in use. You can create and save playlists using this music as well. It is a very simple process too. You just have to click the '+' button to add songs to a new playlist and then save it by assigning it a name.
Features:
Enhance your listening experience with the 10-band equalizer
Customize the background and color of the interface
Sleep timer for automatically shutting down the app
Circular rewind button for easy navigation
Create and save your own playlists
Various sounds effects to play with
Conclusion:
NRG Player Music Player is an app which is aimed towards people who love listening to music on their phones. It offers them the chance to listen to music no matter which format it is in and allows them to customize the appearance of the music player as per their choice. It is an excellent app to have on your phone and you would surely love playing your favorite songs on it.
---
Add a review
Tell us your experience with
NRG Player music player
RELATED PROGRAMS
Our Recommendations
---
---
---
---